When we move into a house, the first thing that we do is try to make it into a home. That is, we try to convert a lifeless house into a shelter, a place where we can take refuge in, from the harsh visions of the world which surround us all the time. The people living in a house are the most important factor in deciding whether the house will ultimately turn into a home or not. However, the next element that plays a very important role is the interiors of the house. The way it is decorated plays a big role in influencing or affecting the emotions and moods of the people within. Also, the interiors of a house are always a reflection of its inhabitants. However, all that put aside it is very important that the interiors of a house should be warm and cheerful. This is very the entire issue of drapery and upholstery come in.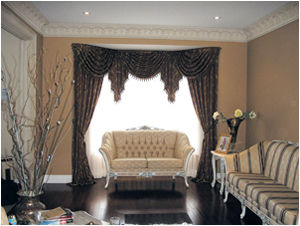 In Toronto, there are various kinds of drapery that are available. These are meant to protect the houses against various kinds of danger that might harm the family members. These dangers could include pest and insects, over exposure from the sun, ultraviolet rays and so on. Drapery has many uses indeed. It can brighten up a room with dull interiors. It can also enhance the structural beauty of a window. Not only that, it can also act as a frame for a beautiful view or effectively hide one which is not so attractive.
In Toronto, the drapery products include a wide repertoire of different kinds of blinds and shades.
There are draperies and sheers which can enhance room interiors, especially windows. Then there are valances which again add to the window beautification. Roman shades, another popular product acts as effective window coverings in all directions. Then there are different kinds of blinds and shutters. There are different varieties of shades which include pleated shades which are especially meant for the economical. Thus customers looking for different kinds of drapery to light up their houses will be pleasantly surprised. There are many different companies all over, offering so many different alternatives for decorating your interiors that you will be spoilt for choice.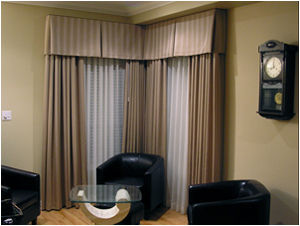 Because you must remember that drapery is not just another way to hide up the ugly patches in your houses, or be a mere decorative item in your rooms. It is a reflection of your uniqueness and your personality which makes you so. Different colors and designs will reflect upon your mood at different times and will also have an effect on your lifestyle and temperament. There are innumerable drapery experts available in Toronto who will guide you towards the best choices of drapery that will enhance your interiors. Thus you need never be afraid of making an uninformed choice.
Let your creative juice pour out as you work on your curtain headings. And don't forget that Helen's Drapery is the best way to make you home style!