Toronto sports a wide range of drapery products that leave the customers spoilt for choice. If you are looking to brighten up the interiors of your rooms, or add an occasional dash of color to lend your house a touch of elegance, then you will be spoilt for choice if you walk into any of the drapery showrooms that are found all over Toronto. These places store different kinds of drapery products with a wide range of colors, designs and what not. There are even motorized high end drapes for the tech savvy.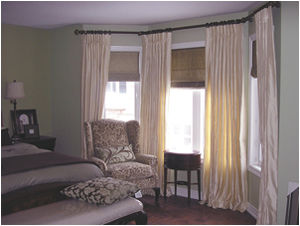 The main product is draperies and sheers. These are available in a variety of kinds. These are available in tap-bop styles and pleat styles as well. Draperies are used for different purposes. It can be used to enhance the interiors of a room. Not only that, draperies can be used to enhance the structure and beauty of an attractive window. Also, it can be used as a frame to accentuate a beautiful view outside. Conversely, it can be used to conceal one which is not so attractive as well.
Another variety is the valance. This is again used in the beautification treatment of windows. Valances are basically accessories to window draperies and add the right dash of spice to the draperies. These can be in the form of velvet fringes and swirls which are added to a pair of basic draperies. They can be floral and summery to velvety and masculine depending on your taste.
Roman shades are a variety of basic draperies and are usually used to cover or rather shade vertical windows and other contemporary structures like skylights. These are again available in bewildering varieties flat, hobbled, relaxed, slatted, etc.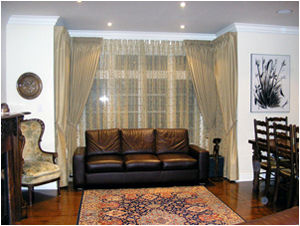 In the modern day and age, new innovations to the conventional drapery industry have also been introduced. One such modification is the soft shades which combines two important functions of the drapes and blinds. It is a fascinating combination of the softness of the drapes and the utility of the blinds.
The best part is, Helen's Drapery in Toronto not only showcase a huge variety of drapes, and you even have the option of choosing between different colors and fabrics for the drapes. Different fabrics like cotton and floral cotton prints are available. If you want to add a bit of color and bling then there is always suede, velvet, or faux fur. Then there is chintz and other traditional types if you do not want to be too adventurous. On the whole, you can always add a unique touch to your interiors by exploiting the wide range of draperies that the Toronto drapery industry can offer you. Thus you must remember that your drapery should have a unique touch about it and should always be a reflection of what you are. And remember that the interiors of your home always affect your moods and emotions so make sure that whatever you choose is what you want. Also, most showrooms in Toronto have an in-house designer who can help you make the right and informed choice.
And don't forget that Helen's Drapery portfolio Toronto is the best way to make you home style!